By default WordPress will display the full post text in the Blog / Latest Posts list page… Where this is usually too long and not wanted, there are 3 ways to display a shortened Excerpt text for each post in the list, making a list a lot easier to read / browse through before clicking through and reading the full post.
Using the Post Excerpt:
The simple way to add a shortened intro text for each post in the Blog list is to use the Post Excerpt… If this setting is sometimes not on by default, then you can turn it on by going to create a new post under Posts -> Add New, or edit an existing post in your WordPress Dashboard.
In the top right corner you can click on the 3 dots to "Show more tools and options", then click Options at the bottom to open the options panel and there you can select which panels/options will show when editing the post.
You can now enter your excerpt to show a shorter version of the post to try and interest the users in reading the full post.

---
Using the Post Read More block:
Another option is to simply add a more block in Gutenberg where you would like the Excerpt to end… So everything before the "More" block will be shown as the post Excerpt / intro.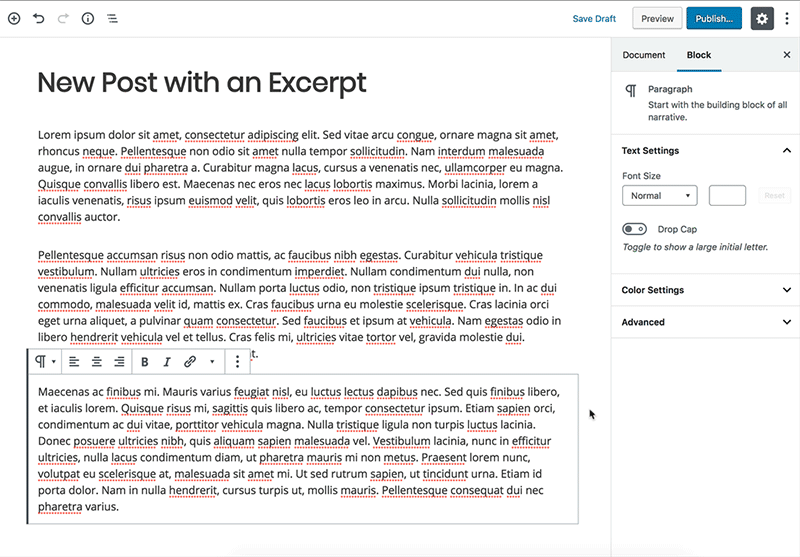 This is also available in the older Classic Editor in the wysiwyg editor.
We'd rather recommend using the Post Excerpt above or the Shortened content option which is available in Overlay Pro.
---
Using the Premium Shortened Content setting:
This option is only available in the premium versions of our themes.
In our Premium themes we've implemented another way to create shortened content for your Blog posts. With this option you can choose the amount of words to display as the excerpt, you can easily change the "Read More" text, and you can choose to have a button to the post too.
For this example we're using the Overlay WordPress Theme.