10 Header Layouts, 4 Footer Layouts
and lots of advanced customization settings
Easily change the design at any time with Guten
Theme Options built into the Customizer
Edit everything visually with an intuitive settings panel
Visually edit your website with all the Guten theme settings all built neatly into the WordPress Customizer. With help links, hints and an intuitive laid out settings panel, you'll built a beautiful site in no time.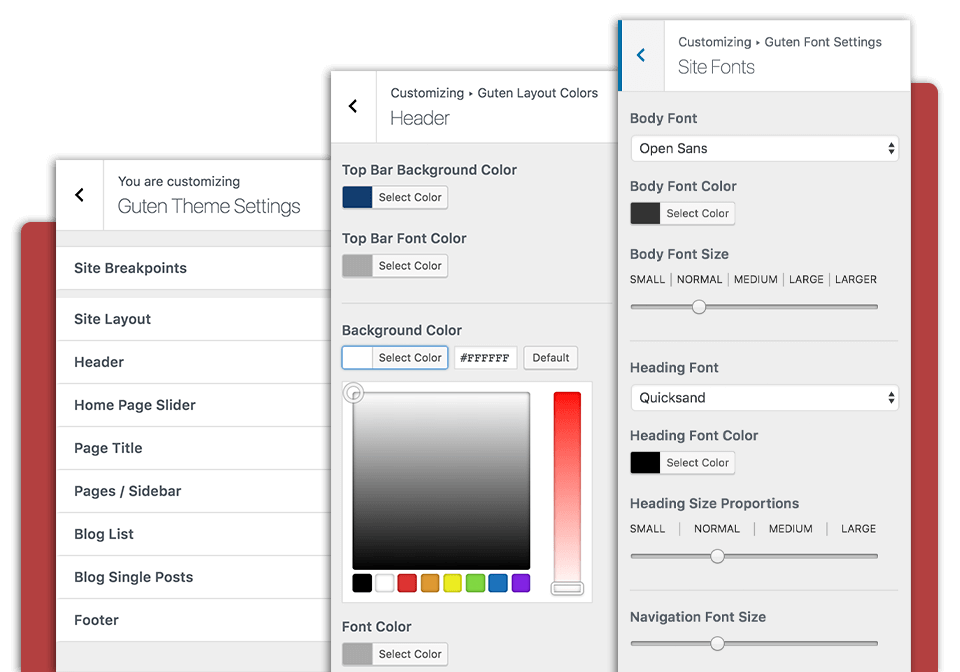 Guten is ready for all devices!
The Guten theme comes readily responsive, so it will look good on all devices and screen sizes. With Guten you can select at what screen size the responsiveness will kick in, giving you full control of the theme and how it looks on all devices. 
Sell online with Guten & WooCommerce
Guten Integrates fully with WooCommerce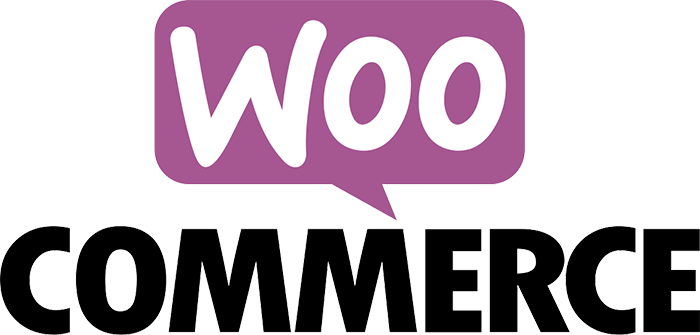 Guten is built to work with WooCommerce, the most popular eCommerce platform on the internet. With deeper integration and it's own custom design, Guten will turn your WooCommerce store into a beautiful online selling power eCommerce store.
Guten has already made customers happy
Don't just take our advice when we say Guten is the perfect theme for your next project with all it's customization settings. See what our users have written about the Guten theme!
If you are looking for a theme with plenty of features and options, Guten's got them in spades! You could use this theme for several different websites and with the ability to customize fonts, colours and headers, you wouldn't know those websites were all based on the same theme. I'm very happy with this theme. Highly recommended.
Destilwell
WordPress.org
Kaira is a reliable theme house, and this is an honourable edition to their collection. It offers a wide range of options and has been stable and usable for me.
Dedide
WordPress.org
Works with the top WordPress plugins
Scale your website with some great recommended plugins
Speed, Usability, Performance & Customer Support are our main focuses with our products… You need a feature added, or help configuring any of the settings in the Guten theme? Get in contact and we'll assist as best as we can. 
The top rated WordPress Page Builder makes design easy.
Security, performance, and site management tools.
Improve your website page ranking with Yoast SEO.
Add Breadcrumbs to your pages for easy user navigation.
What do you get with Guten Premium
For only $26 you will get a bunch of extra features when you purchase the Guten Premium theme.
Select from a directory of Page Layouts to import and use as a starting point when building your website pages. This will save lots of time when building your website.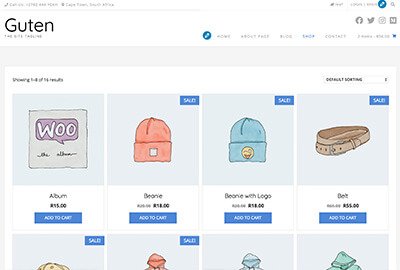 Guten Premium offers extra advanced layout and cofiguration settings for you WooCommerce store.
Only available in Guten Premium.
Guten Premium also comes with extra  layout settings for the theme pages, and to further customize your header, footer, blog and lots more… making you the designer.
With Guten Premium you get extra slider features such as being able to link your slides to a custom url that you specify with a new meta box that gets added to each slide.
Enable to slide in Sticky Navigation when your users scroll down the page. This gives your users easy access to links around the site which scrolling down your pages.
Social Icons - Brand Colors
Add your Social Icons to your website and further customize the design and look of them. Even change then to display as the brand color in the header, footer and/or side areas.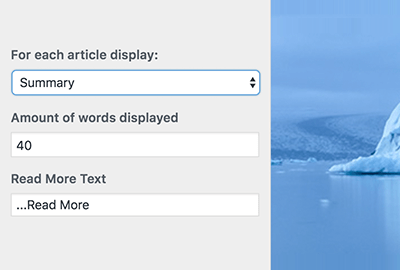 Blog List Excerpt Control
Premium gives you an extra Excerpt / Shortened blog content settings. Set the number of words shown, and customize your own 'Read More' text.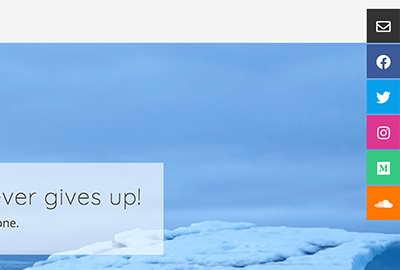 Side Aligned Social Links
Add quick links to your social profiles with Guten Premium. We offers over 20+ social profile to link to, as well as selecting to use the official brand colors.
Enable the Back to Top button so your users can easily scroll the website back up with the click of one neat little button that appears when the user scrolls on the site.
Guten Premium lets you customize the site copyright / attribution text at the bottom of the footer to add your own copyright text. Easily change it to whatever you need to display.
This is for the user building websites for clients and who want to add a "Site Built By" link. With 2 different designs you will love this feature to link back to your website for credit.
Guten Premium gives you extra control over tag elements, letting you change the HTML tag, as a way of letting you have more control over your Search Engine Optimization (SEO).
Pricing Structure That Suits You
Join All the Awesome Clients Already Using Guten
We've had a few requests for different pricing for developers or multi-site users for Guten.
So, as asked, here are the different pricing options for the Guten theme.
Select from:
Once off Payment, Set up a Recurring Payment, or an Unlimited Lifetime Payment option.
Choose how you want to pay:
Single Site License
Support & Updates for 1 year
$
24
Once Off Purchase
5 Site License
Support & Updates for 1 year
$
35
Once Off Purchase
Unlimited Site License
Support & Updates for 1 year
$
59
Once Off Purchase
Single Site License
Ongoing Support & Updates
$
19
Annual Recurring Payment
5 Site License
Ongoing Support & Updates
$
29
Annual Recurring Payment
Unlimited Site License
Ongoing Support & Updates
$
51
Once Off Purchase
Unlimited Lifetime Deal
Lifetime Ongoing Updates
$
99
Once Off Lifetime Payment
Lifetime Updates on All Domains
We're here to help… If you need any help or advice with setting up the Guten theme then please don't hesitate to contact us and we'll assist as best we can.